Independent, pioneering and dedicated to creating amazing spaces.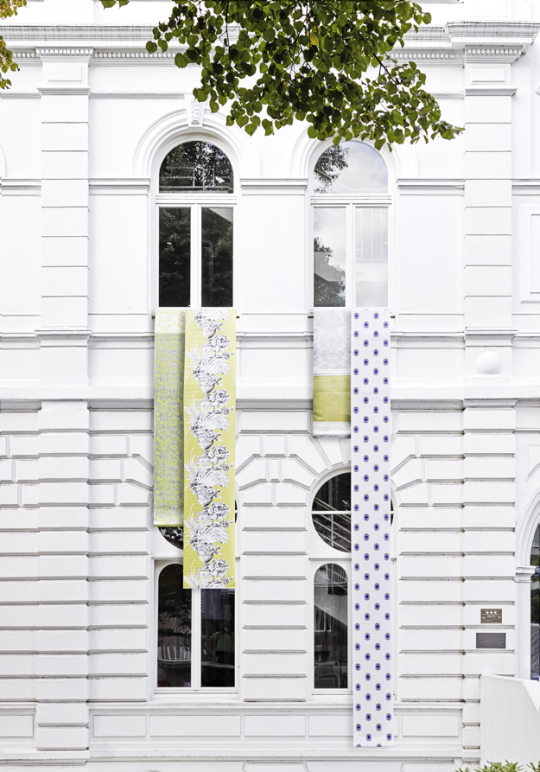 Decor8 is the name on virtually every other interiors blogger's blogroll, and with good reason. In six years it's become such a popular design resource that its American founder, Holly Becker, now has a bestselling spin-off book to her name and is a regular on the lecture circuit.
I love seeing rolls of wallpaper falling out of windows. Of course, it's only for a photo and only for a few hours, but the idea of it is so appealing to me. It makes me wish you could buy patterned wooden shutters to add to the outside of your home and have a big white house like this with patterned shutters and a bold blue or canary yellow front door or something. I often wish I lived in a world that was more experimental. So many people claim to be but in the end, most of us just conform. It's a shame. Because I bet lots of us would have way cooler houses – I'm talking about exteriors – curb appeal
These are all nice and interesting concepts, don't you think? I especially like the series on cross stitch and applying the look of it to objects like ceramics and lighting. What I find so interesting about styling overall is when you are given a project, you can have so much fun developing whatever theme you either pitched or were given by the firm who hired you. Many times, though the sky is the limit, you also have to consider what is practical and functional depending on the client and their market. I honestly love the work of magazine styling and also book styling, though I find magazine styling such a different field altogether because you really have to pitch, develop, order product, make, pull everything together, etc. so it's such a reflection of YOU. Interior styling for books, like the line of work I'm in – well, it's just different though the title is the same. I'm thinking to add magazine work to my resume, I'd love to work on location and pull together something I've envisioned. I was able to this with my new book that just came out, Decorate With Flowers, because it required my co-author Leslie and I to brainstorm all of the ways we do and would use flowers and then create stories around themes and colors for each, plus add DIY projects… So it was really my big break into doing a book that required a lot of careful planning.
My decorating books before that were a little different since I styled homes on location and for the most part, I only brought and styled flowers for the rooms and then styled the rooms channeling my vision and aesthetic, which I felt was important to not only apply that but to maintain the homeowner's voice too. It was a challenging balance but I achieved success with those books and the homeowers felt delighted to be a part of those projects.
I'm developing concepts now for books 4 and 5, and I'm thinking of mixing interiors with my own styling but also to add interesting projects and things that can, likeDecorate With Flowers, give me a chance to really show my more artistic and creative talents. But yes, back to styling and images above, I really did enjoy them and also liked that they are doing so well here as a creative design firm. I often feel this market has so many gaps and there are so few "names" when it comes to interiors. I cannot think of anyone in particular that is a household name in Germany when it comes to interior design or styling. It's so different where I come from. In America we are just saturated with names and talent in this field. I wonder if Germany will ever see that? I would be happy to step up and nominate myself but in many ways, I'm unsure what people here would think or how they would react to an American being one of the voices of German interiors?
I'm thinking out loud. I need to get some work done around the office today, some consulting for a NYC startup, but I'll be back online a little later with some more finds and words to share.