Independent, pioneering and dedicated to creating amazing spaces.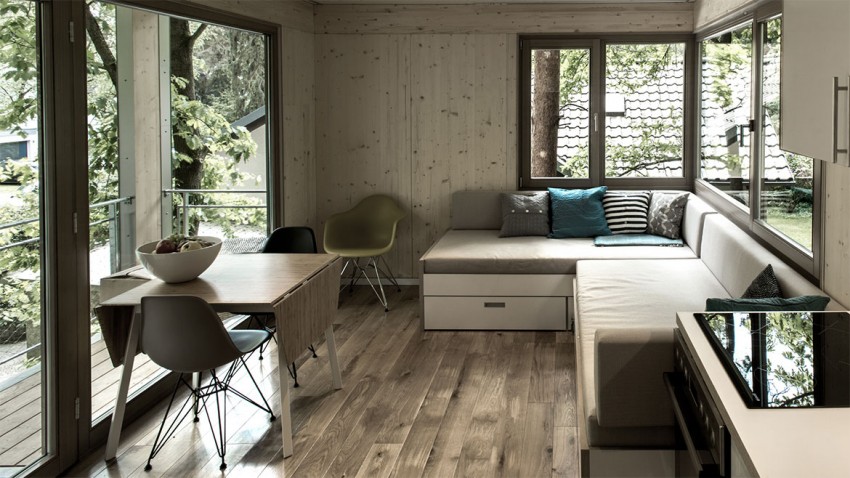 We have featured several spectacular treehouses in the past on Homesthetics. All spectacular and all unique for sure but this is the first urban treehouse. The surroundings are giving the much desirable feel of residing in a forest and embracing the proximity with nature in its closest quarters yet the ensemble is located in Berlin, Germany. In the exterior the home mirrors the surroundings where possible or it is simply subdued to the nature greatness through light wooden surfaces and transparent access paths. The design exudes a professional high end vibe, a very distant,  cold connection for a treehouse that it is at its origins rustic and embedded in the surroundings in a direct connection. In the interior design you will find one of the most highest grades of comfort ever materialized in a treehouse.
A corner bed and a corner sofa are making use of the space allocated efficiently allowing airflow circulation whilst being enhanced by huge windows which tend to attenuate the cold connection through transparency.The home is available for short-term rent at the moment and if you have the opportunity and occupy it even for a night we would love to hear how you have enjoyed this unique experience.
"The Urban Treehouse is a place to get away, to play, to think and change your perspective; a place of inspiration and regeneration. With 28 sqm (300 sqft) each and 4 m (13 ft) high up the two tree houses offer all the amenities one could ask for. The 650 sqm (6,997 sqft) garden property borders on the forrest and is located close to the beautiful swimming lakes "Krumme Lanke" and "Schlachtensee".